Flattr Android application
for Flattr users
Flattr is the micropayment system the web was waiting for. Get it on your Android phone: flattr real things equipped with QR codes, flattr your favorite apps!
Flattr real things: paintings, street art, people...
Flattr your favorite Android apps
Get it!
Add a Flattr button to your Android app and let your users support you.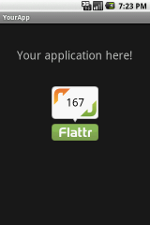 Get the Flattr Android SDK and enable Flattr in your app.